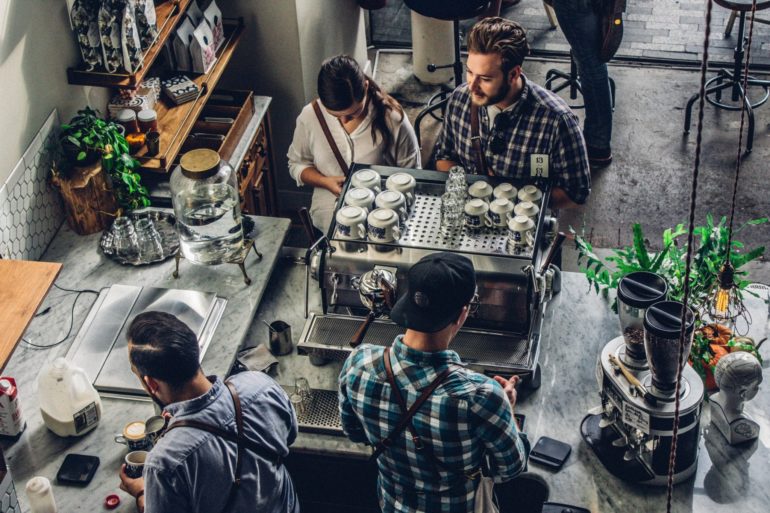 5 tips to boost your restaurant
Vous êtes dans le secteur de la restauration et vous voulez dynamiser votre restaurant ? Vous souhaitez découvrir comment obtenir des bénéfices tout en assurant votre gestion ? Aujourd'hui, nous allons vous donner 5 conseils essentiels pour réussir à dynamiser votre (ou vos) restaurant(s) facilement.

1- Build your map well
Tout d'abord, l'élément principal de votre restaurant est sa carte des plats ! Il faut que vous soyez créatif et intuitif. Proposez une carte et des menus représentant vos valeurs et votre charte graphique. Plus votre carte sera créative et plus les clients seront conquis et vous deviendront fidèles. Votre carte est un moyen de communication et de commercialisation qui reflète votre restaurant et sa popularité.
Démarquez-vous des concurrents pour accroitre votre entreprise en proposant un menu simple et clair d'esprit, mais original. Il est important de proposer des menus variés et des produits de qualités, vous pourrez ainsi satisfaire une clientèle plus large. De plus, le bouche-à-oreille des clients vous permettra d'en attirer des nouveaux. Vous pourrez grâce à cela augmenter votre chiffre d'affaires. La construction de votre carte attire des futurs clients. Il faut qu'elle soit à la fois simple et à la fois recherchée. Il ne faut pas que vos menus soient surchargés sinon votre carte perdra en qualité. Construisez une carte attractive pour dynamiser votre restaurant.

2- Manage your stocks to avoid losses
Dans le milieu de la restauration, la gestion des stocks est parfois mise au second plan. Il est important de ne pas négliger ce détail, car il est directeur de l'organisation de ce secteur d'activité.  Même si les stocks sont de temps en temps difficiles à approvisionner, il est nécessaire de bien s'en occuper, et cela ne peut qu'être bénéfique pour votre entreprise et pour votre gestion. Gérer ses stocks, c'est éviter les pertes et le gaspillage alimentaire.
You will not run out of products and raw materials, nor will you have a surplus of products. It is important not to be overloaded when the quantities of products are too large. And conversely, you must not run out of material to make your recipes, because if you offer a dish to your customers and you are unable to make it, it will give you a bad image. You will save your money and gain in quality by managing your stocks and avoiding losses. You will also improve the quality of your service and your choice of dishes.

3- Boost your restaurant - Communicate on adapted platforms
Par ailleurs, pour développer votre restaurant, il est indispensable d'avoir une bonne communication. Il faut faire découvrir sur internet votre restaurant à vos futurs clients et fidéliser vos clients actuels. Depuis l'apparition des réseaux sociaux, une grande partie de la clientèle regarde en premier temps les avis sur internet, les posts de vos menus, votre rapport qualité/prix, etc.
En tant que restaurateur, Instagram est une plateforme adaptée pour faire découvrir votre entreprise. En effet, toutes les catégories d'âges sont sur cette plateforme, car elle est facile d'accès et que les informations sont transmises très rapidement. Alimentez votre compte tous les mois et les abonnés monteront. LinkedIn est aussi une plateforme adaptée pour dynamiser votre restaurant et vous faire des contacts dans le milieu. LinkedIn est un réseau social à but professionnel et il est indispensable pour beaucoup d'entreprise. De plus, pour que vos informations et données soit très facile d'accès, n'hésitez pas à créer un blog, où vous présentez votre carte, votre adresse, vos bons plans…
Also, highlight your positive restaurant reviews to stand out from the competition and bring in new customers. In short, it is very important for your reputation to communicate your values to your customers in order to retain them and attract new ones, but also to develop your restaurant.

4- Put processes in place to streamline production
Pour développer votre restaurant, il faut aussi fluidifier votre production en mettant des processus en place. Quels processus vous allez me dire ? Ceux qui sont déterminants pour votre développement. Fiches techniques, suivi de production, plan de nettoyage…
All these processes are essential for your success. It is important to set them up to be able to organise, schedule and improve the management of your restaurant. Thanks to new technologies, implementing processes is very easy to access and simple to do.
Par exemple, notre application Koust vous permet d'assurer le suivi de vos productions, vos fiches recettes, vos commandes de fournisseurs, etc. Fluidifier votre production est indispensable pour que votre restaurant tourne à pleine vitesse et qu'il se développe rapidement, c'est pour cela qu'il faut que des processus soient en place, pour vous aider et vous faciliter le travail.

5- Maintain a 70% gross margin to boost your restaurant
Pour finir, nous vous donnons comme dernier conseil : comment maintenir une marge brute à 70 % ! Il est important pour le fonctionnement de votre restaurant que votre marge brute soit largement supérieure aux coûts des produits. En effet, pour que vous ayez assez de bénéfice, votre marge doit être de 70 %, ainsi, vous ne vendrez pas à perte. Prenez en compte le prix des matières premières et le prix de vente de votre produit.
Pour que votre marge brute soit optimisée, il faut que le coût des matières premières nécessaires à votre production représente au maximum 30 % de votre prix de vente. L'ajustement des prix de votre menu est indispensable dans la gestion de votre restaurant, pour pouvoir réaliser du bénéfice.
Les coûts alimentaires augmentent constamment. Vous devez impacter cette augmentation sur vos clients sans les perdre en proposant des prix justes et accessibles pour votre gamme de restauration. En fait, pour développer votre restaurant, vous devez vous baser en fonction du prix des matières et du prix de votre plat.


Vous avez maintenant toutes les cartes en main pour savoir comment développer votre restaurant. N'hésitez pas à les appliquer, vous verrez vous en tirerez que du positif !