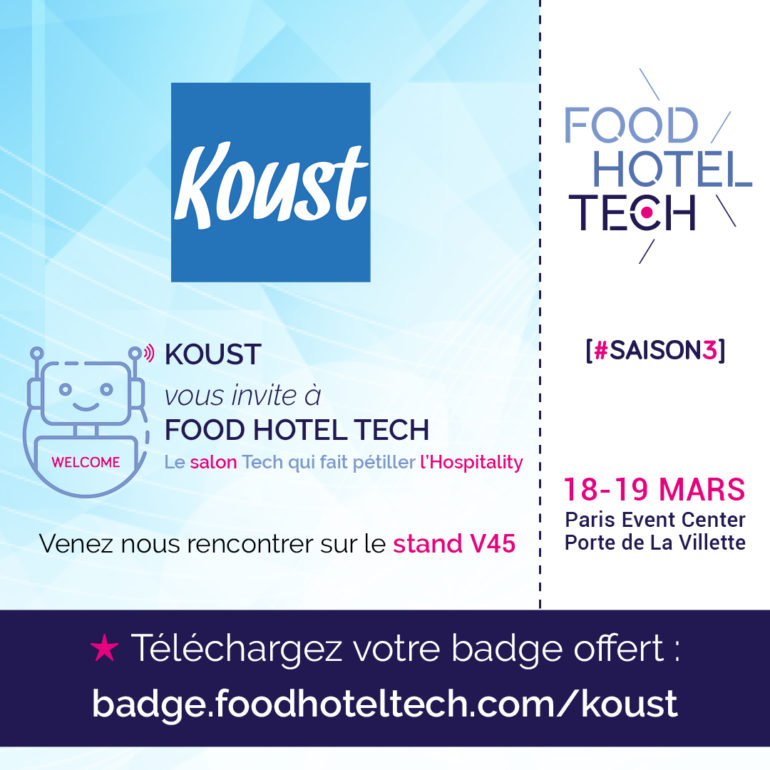 KOUST invites you to the Food Hotel Tech exhibition
Free Trial | Koust Application
KOUST invites you to the show! Come and meet us Stand V45
Register in 3 clicks.
And download your badge offered by Koust.


You will automatically receive your digital badge and an invitation to connect to the networking platform.
Foodtech Paris exhibition, Porte de la Villette
Come and discover the latest developments in the hospitality industry at the 1st digital and technology trade show dedicated to the hotel and catering industry.
Food Hotel Tech se veut le lieu de rencontre FoodTech et d'échanges privilégié pour les professionnels de l'hôtellerie et restauration afin de les aider à décoder les challenges de l'avenir.
Exposants, conférences, animations autour des Start-up de la FoodTech … : Ce nouveau salon professionnel propose un panorama complet et pertinent des outils digitaux et des innovations technologiques dédiés aux métiers du CHR.
You also want to find out more about new trends and the latest technological innovations in the catering sector.

Optimize your technology investments. View Roadmaps of new applications, simplification strategies, and upgrade opportunities to meet your needs.
How to sell more, better and improve your margin? See demonstrations and meet all the partners who offer solutions in your facilities and organizations.
How to improve the customer experience? Mobility, technology in your establishments. And, participate throughout these 2 days, to the conferences. Round tables led by web and hospitality industry leaders.
And, get feedback and learn from early adopters of new software and emerging services.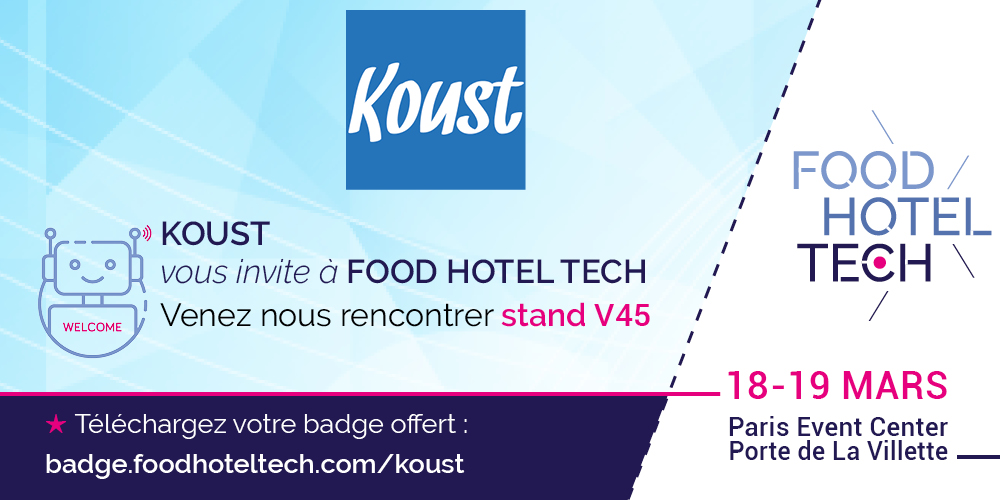 Free Trial | Koust Application
Take advantage of all the new features of the Digital
Du CRM et de la fidélisation des clients
Des solutions de paiement sécurisées
Des nouvelles solutions de réservation
Centralized managementsolutions for chains
Et des systèmes de gestion et d'organisation
Meet us in Paris Porte de la Vilette
FOOD HOTEL TECH
PARIS EVENT CENTER - HALL B
18-19 March 2019 - 10am-7pm