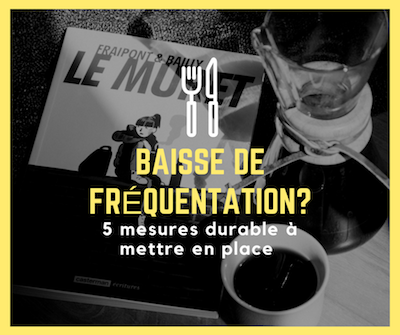 5 Actions if you experience a drop in restaurant attendance
Un restaurant sur deux ferme ses portes avant sa troisième année. Baisse fréquentation, en cause ? Cet article va vous aider à établir une stratégie pour remédier à une baisse d'activité et de fréquentation dans un restaurant. En observant la réaction de la plupart des décideurs face à une telle situation de crise, on remarque une tendance vers des réflexes automatiques, vers les mêmes mécanismes psychologiques.
Free Trial | Koust Application
Our decisions are similar, we all react more or less the same way. When faced with a crisis situation, we make great efforts because we love our job and we don't understand why the results are no longer there. Our methods, which worked in the past, don't give as many results today.
One day, we wonder why business is not going so well, and we start to wonder, to doubt our team, to question ourselves. Then, we lose a little bit of confidence and we look for answers everywhere, we question our entourage, we would like to know what's going on in our clients' minds.
Probablement, on n'a pas voulu voir la réalité en face et on a glissé tout doucement sans se rendre compte de la situation. Enfin, on n'est pas conscient des problèmes ou on s'est mis la tête dans le sable. Pourquoi ? Quand on arrive à une telle situation, c'est souvent trop tard ! Simplement parce que les factures continuent de s'accumuler, les charges sont toujours constantes ou au pire, elles ont augmenté.
Les sorties d'argent commencent à être supérieures aux entrées et notre affaire perd de l'argent…
Notre première réaction, c'est de vouloir rétablir le chiffre d'affaires en cherchant à remplir le restaurant par tous les moyens. Et c'est à cet instant précis que nous nous accélérons la descente aux enfers…
Here are 5 key points that will help you avoid this failure and help you turn the situation around.
1 - Controlling gross margin
Le premier point, c'est d'améliorer sa marge sans perdre en qualité. Le réflexe qui consiste à acheter seulement moins cher, va vous conduire à une baisse de la qualité. Cette attitude finie par avoir un impact énorme sur la qualité de vos plats et vos clients vont fuir votre établissement.
Pour cela, vous devez mettre en place un système de suivi de la marge. Ce système doit vous donner des indicateurs au minimum tous les mois.
To start reducing your expenses, renegotiate with suppliers to compare prices and put those suppliers in competition with each other.
Reducing waste and loss is also an excellent way to cut costs:
Adapting your preparations according to the number of visitors is essential, and just because more preparation is planned does not mean that customers will flock.
Cherchez à connaitre vos ratios, vos marges sur vos plats,
Mettez en place des livres de recette. Nous verrons dans le dernier point qu'il est préférable de chercher à mettre en place des systèmes durables que d'acheter uniquement sur des promotions.
2 - Controlling other expenses
Pour aller plus loin que la marge brute, on peut faire beaucoup d'économie en revoyant de plus près les autres charges. Vous pouvez contrôler les dépenses :
water
electrical
de téléphone…
Et vérifier :
Les robinets qui fuient,
Les éclairages inutiles,
La machine à glaçon pour 3 glaçons par service,
Les friteuses en marche inutilement 1 h avant le service,
Les fours allumés à 9 h du matin alors que le service ne commence qu'à midi
Recherchez vos contrats, analysez-les et renégociez-les : location, assurance, crédits…
Do not systematically renew your subscriptions.
Toutes ses dépenses cumulées ont un impact sur vos bénéfices. Ces charges sont généralement fixes : même si votre chiffre d'affaires est divisé par 2, les charges seront toujours là.
Reduce all unnecessary expenses except for marketing and communication (see point 4).
3 - Improve its card and its offer
Adapt your offer in the face of new customer behaviours to stay in step with the times.
Monitor the competition and analyze new concepts
Test the evolution of customer reaction to your offer and prices.
Set up a system to analyze your new products rather than making drastic changes, take time to see how your customers react.
Continue until you find optimal solutions in your product selection and marketing operations.
4- Preserve and Optimize your marketing budget
First of all, most people have 2 reactions to a drop in restaurant attendance
La première, c'est de baisser le budget marketing, c'est une très grosse erreur. Comment peut-on espérer augmenter ou au minimum maintenir son chiffre d'affaires en baissant son budget de communication.
Et, la deuxième, c'est de le gaspiller inutilement dans tous les sens et de faire des promotions. On peut facilement dépenser de très gros budgets de communication pour relancer son affaire. Souvent, c'est de l'argent par les fenêtres. La publicité donnait peut-être de bons résultats il y a 20 ans, mais elle ne touche plus personne aujourd'hui, surtout pour les petites entreprises.
To combat the decline in attendance
C'est généralement une solution immédiate et rapide, mais elle donne trop peu de résultats, le retour sur investissement est négatif. Le point 5 approfondira ce genre de décision.  Si vous avez mis au point une méthode sur internet qui fonctionne, sur Facebook par exemple, utilisez là, mais uniquement si vous pouvez mesurer les retours.
Les promotions vous donnent aussi une mauvaise image, vos clients fidèles vont se poser de questions. Avec ce genre d'offre, vous allez attirer des personnes qui ne cherchent que les promotions et ils ne reviendront pas si vous rétablissez vos prix. Enfin, votre marge brute va baisser, ce qui ne va pas améliorer les résultats financiers.
5 - Long-term decisions versus lower attendance
C'est le dernier point, ne pas prendre des solutions trop hâtives ou des raccourcis. Comme dans la publicité où il ne faut pas croire aux solutions miracles, il vaut mieux investir sur le long terme.
Dans une situation difficile, c'est compliqué de prendre des décisions qui n'auront pas d'impact immédiat a priori, mais c'est souvent le bon choix.
This is the time to start thinking about your image, your decoration, your visual identity even if you don't commit all the expenses immediately. These are capital expenditures that will bring lasting results in your restaurant.
Investissez dans le numérique, dans les formations, faites la promotion de votre restaurant en apprenant à utiliser le Web. Formez votre personnel et mettez en place un système de fidélité performant.
Analysez vos résultats, cherchez des résultats durables, plutôt qu'immédiat. Mettez en place un système de contrôle qui vous permet de suivre vos évolutions et vous motiveront. Des bénéfices minimes, mais cumulés sont largement plus profitables que de faire des "coups" à court terme.