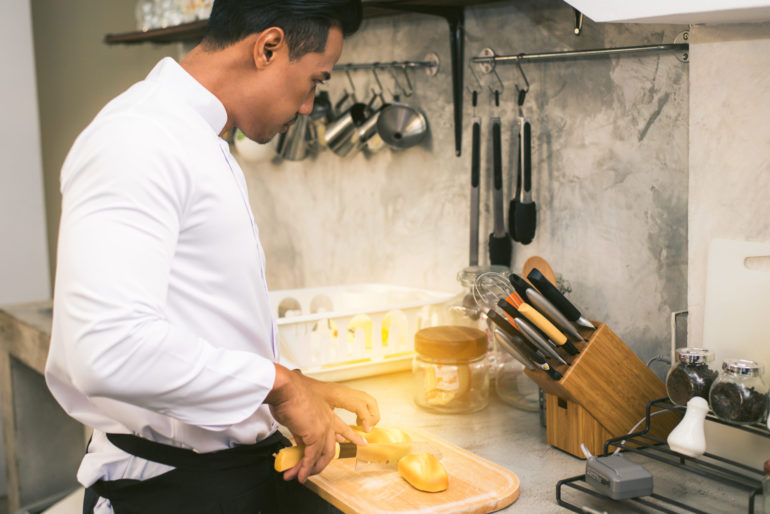 10 Tips to reduce your catering costs
Nous parlons souvent de perte en restauration. Que ce soit dans la cuisine, la salle, le bar, les zones de stockage ou le back-office. Cela étant, il va de soi qu'il y a aussi beaucoup de choses que les opérateurs peuvent faire pour endiguer les pertes potentielles. Et réduire vos coûts en modifiant la façon dont ils font des affaires dans ces domaines. Voici donc 10 conseils pratiques que les restaurants, grands et petits. Ils sont efficaces pour réduire les pertes et, par conséquent, augmenter la rentabilité.
1 - Lower stock levels
Of course, there is a limit to reducing stock levels, but it is common for many restaurants to have more food on their shelves than they really need. Evaluate your inventory levels on a product-by-product basis and base your order levels on how much you think you actually need to use until the next delivery and add a reasonable safety factor.
So by reducing excess inventory, you will have less waste and spoilage and you will reduce your costs. You'll probably find that your staff will do a better job of rationing and handling your expensive products when less is on hand.
2 – Daily inventory of key items
Il s'agit de l'un des contrôles des coûts les plus élémentaires, mais les plus efficaces dans le secteur de la restauration, et nous sommes constamment étonnés du nombre d'opérateurs indépendants qui ne le font pas. Cette pratique commence donc par l'identification de vos 10 à 15 meilleurs produits qui constituent l'essentiel de vos coûts alimentaires. Chaque jour, comptez et enregistrez la quantité de départ ou d'ouverture disponible pour chaque produit.
Actual/Theoretical Comparison
Add to that all your purchases of the day. Count the ending inventory and calculate the usage of each item by adding the beginning quantity and purchases, then subtract the ending amount available.
The result is the quantity of each product that was used. Now compare this figure with the POS (point of sale) product usage ratio for each product.
Si l'utilisation réelle est supérieure à l'utilisation POS (théorique) examinez là immédiatement. Cela pourrait être un signe de vol, de casse ou d'autres problèmes d'utilisation des aliments.
3 – Calculate your ideal cost regularly
Pour contrôler le coût des aliments, il faut connaitre votre objectif de coût des aliments. Tout d'abord, vous devez effectuer l'exercice de calcul du coût de l'ensemble de votre menu.
Calculate the ideal cost
Then calculate the ideal cost based on the actual menu sales mix from your POS product mix reports. This report should show you the quantity sold and total sales for each menu item for a given period of time. Simply report the cost of each menu item and the number of sales for that item. Then multiply the cost by the number of sales to arrive at the ideal cost for each item.
Ensuite, ajoutez le coût idéal pour tous les articles pour arriver au coût total idéal de la nourriture pour la période… La différence réside dans les économies de coûts potentielles perdues.
4- Focus on selling your highest gross margin items
Quel que soit le coût des aliments, il y a des moments où un coût alimentaire plus élevé peut signifier plus de profits. C'est le cas lorsque vous faites la promotion et vendez des plats plus chers comme le steak ou les fruits de mer frais et que vous vendez moins d'articles à moindre coût tels que les spaghettis ou le poulet grillé. Bien que le steak puisse avoir un coût alimentaire élevé. Il rapporte donc généralement plus de bénéfices bruts, ce qui entraîne un coût alimentaire plus élevé, mais également un bénéfice plus important.
5- Insure maximum use of your products
Prévoyez d'utiliser des garnitures et des sous-produits utilisables ailleurs dans le menu. Les soupes, les garnitures et même les sauces peuvent être des candidats privilégiés pour les aliments qui peuvent aller directement dans votre poubelle, ce qui vous permet de réduire vos coûts.
6- Buy only what you need
Là sur achat est l'une des choses les plus chères que vous puissiez faire dans cette entreprise. Cela conduit donc à plus de déchets, de détérioration et donc de perte. Utilisez des bons de commande. Gardez une trace de ce que vous avez commandé, de la quantité commandée et du prix indiqué.
From mistakes happen and they are usually not in your favour.
7- Use an order guide to reduce your costs
An order guide is a set of forms containing a list of all the products used by a restaurant. It is usually divided into separate sections such as meat, fruits and vegetables, cleaning products and paper. The order guide is used as a tool to count and track all the products that your restaurant uses and needs to reorganize.
C'est pourquoi, les guides de commande les plus efficaces incluent autant d'historique de commande que le formulaire le permet. En voyant l'historique d'utilisation des produits, vous pouvez ajuster vos parts au besoin et maintenir l'inventaire à des niveaux optimaux.
8- Establish the amount of daily preparation
To control freshness, waste and spoilage. So you need to know how much food to prepare for each shift based on anticipated sales. Too much product available leads to waste and spoilage. Too little results in a lack of supply on the line, which in turn means the occasional compensation for the guest. By establishing and constantly re-evaluating parity levels for all prepared items, you help reduce excessive waste and cut costs.
9- Put on update the price of your menu
Qu'il s'agisse de condiments de table, de frites et de salade, de pain et de beurre, ou d'huile de friture. Chaque restaurant propose des produits alimentaires qui rendent difficile la répartition des coûts pour des éléments de menu spécifiques. Il est donc souvent difficile d'affecter le coût à des éléments de menu spécifiques. Généralement appelé coût de la plaque ou coût surround. Cela doit ainsi être pris en compte pour avoir des attentes de coût de menu précises pour réduire vos coûts.
10- Use data sheets in the kitchen
Vos différentes recettes contiennent souvent des ingrédients et des portions très similaires. Il peut donc être facile pour les cuisiniers de les confondre. Une méthode pour assurer la cohérence consiste à afficher des fiches de référence rapide de recette à chaque station. Enfin, ses fiches contiennent une liste des ingrédients et des portions pour chaque élément du menu afin que les cuisiniers puissent rapidement vérifier les portions de recette correctes.
Photo credit : Photo background created by tirachard - en.freepik.com