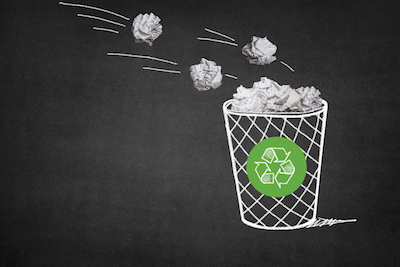 Reducing food waste in commercial catering
In the restaurant business, food waste is a sad but real fact. Indeed, in companies, for example, food waste accounts for nearly 11 kg per person each year. What are the issues at stake in this waste and what would be the solutions to reduce it? ​
Distressing figures
Reducing food waste in the catering industry is an important issue. It is not only a question of preserving nature, but also of making considerable budget savings.
Therefore, in order to reduce the amount of food wasted, it is essential to adopt an attitude of sustainable eating. The figures speak for themselves: in the Brussels region alone, almost 50,000 meals are served every day in companies and food wastage is estimated at 11 kg per employee per year.
As far as schools are concerned, again in this region, food wastage is about 7 kg per pupil each year, especially in the hot meals in the canteen. 45% to 80% of the waste bins are made up of food waste in the Horeca. It should not be thought that these regions are isolated cases or that food waste only affects companies and schools. This fact also affects meetings, events and colloquiums.
Free Trial | Koust Application
An Ethical Problem
The problem of food waste is not just an environmental one. It is a compulsive use of natural resources, but it is also an economic problem. Unnecessary expenses are incurred, particularly in the treatment of waste.
Finally, the problem is also an ethical one. Food is being devalued when so many people are starving in this world. The cost of this distressing fact is not only the cost of waste management, but also the cost of the products purchased and working time, that is to say, the hourly cost.
If in the end the bill turns out to be steep, it can be drastically reduced if everyone does their bit. Producing only the essentials in order to reduce food waste and thus increase profits is now the goal of this sector.
Projects to remedy this
Feeling increasingly concerned by the facts, the contract catering sector decided to put measures in place. Thus, the targets for reducing food waste would be 6 kg per employee and 3 kg per pupil per year by 2020. In company canteens, pilot projects have been carried out and have shown that it is perfectly possible to reduce food waste by raising employee awareness.
The result was a 41% reduction in waste. The measures taken in the school canteens concerned stock management, ordering, service, preparation and staff training. These measures resulted in a reduction of more than 20% in food waste.
Good practices to reduce food waste
Acting with the right approaches
There are two types of food waste, namely food that is not consumed and products that have expired before use. In order to combat these different forms of waste, it is important to identify the factors, particularly at the restaurant owner level. Control actions must be assimilated at all stages, i.e. from purchase and stocks to the portions served and the quantity prepared in the kitchen. It is important to know how to manage stock orders and purchases and how to store food in an optimal way. Here are some useful tips:
Knowing how to adapt orders according to attendance statistics.
Use products with preference for those with the closest expiry date.
Adopt a reservation system as much as possible, so as to know how many people to cater for.
Reduce as much as possible the extent of the offer by not offering a multitude of dishes.
Choose a suitable packaging.
The frequency of orders will be adapted according to the nature of the product.
Improve the monitoring of its stocks by keeping an inventory and thus reduce the storage time of products.
Carry out regular inspection of refrigeration and freezing temperatures.
Limit the handling of fragile products and label foodstuffs already started or surplus.
Adapting the preparations
But that's not all, the measures to be taken also concern the preparation of meals. It is important to cook as you go along, asking customers to wait a little while. Then, here are some more useful tips:
Do not mix ingredients in advance.
Try to prepare the vegetables in a playful way by adding more flavour.
Do not peel organic vegetables and fruit if possible.
Defrost fresh ingredients in small portions and plan the meal menu according to available stocks.
For snack vending machines, limit the offers.
Preferably, decline meals on the basis of common ingredients.
It is also important to know how to deal with leftovers in order to avoid any possible waste. For example, use food by-products in your preparations. For example, using leftovers from fish or poultry for stuffing. Or prepare a soup from the previous day's vegetables and use the leftover bread to make breadcrumbs. Excess potatoes will be used to make mashed potatoes.
When serving meals, it is important to prepare plates with small portions. It is also important to use measuring utensils that are as simple as they are effective. At that time, the price applied should be proportional to the contents of the plate.
It is also important to respect meal times. If meal times are too varied, the person to be fed will be more likely to have already eaten and therefore be less hungry. The meals of the day should be distributed in a balanced way and the kitchen staff should be made aware of this as well as the consumers.