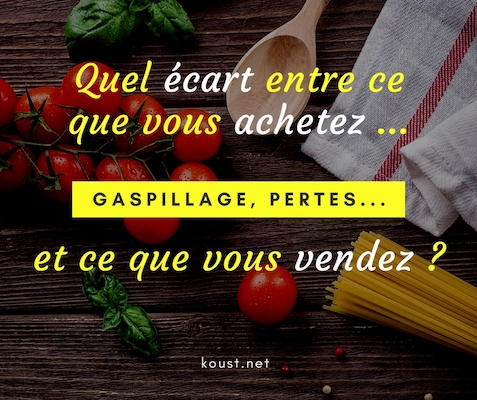 Inventory control: discrepancies between your purchases and your sales
Le contrôle de stock en restauration : Êtes-vous sûrs d'avoir vendu les six bouteilles de "Mâcon" que vous avez achetées la semaine dernière ? Il ne reste plus aucune bouteille en stock. Comment répondre à cette question sans éplucher toutes les additions ou sans interroger votre équipe sur le nombre de ventes ?
Le contrôle des stocks est un outil de gestion indispensable pour un restaurant. En effet, il est important d'analyser les données, les quantités de produits que vous avez en stock. Il s'agit du contrôle des écarts entre votre stock théorique et votre stock réel que vous allez renseigner lors de l'inventaire. En suivant ce système, vous allez limiter le gaspillage alimentaire, réduire vos coûts d'achats et donc améliorer la gestion globale de votre restaurant.

Free Trial | Koust Application
Pour des produits que vous revendez comme le vin, c'est plutôt facile. Mais quelle méthode utiliseriez-vous quand vous avez de 5 à 10 produits par recettes multipliées par le nombre de préparations de votre restaurant ?
Peut-être, croyez-vous que c'est impossible et que personne ne contrôle ça !
Ce suivi est extrêmement important ! Imaginez que tous ceux vous entourent savaient que vous ne pouvez rien contrôler…
Symptoms and Diagnosis
La plupart du temps, on pense aux fiches techniques et aux quantités qui ne sont pas respectées pour justifier un écart. Si vous ajoutez 20 g de poulet par escalope sur 100 pièces, vous avez un écart de 2 kg. Le gaspillage est aussi un fléau en cuisine : trop de préparation, pas de feedback et sûrement pas de méthodes pour préparer au plus juste et pas d'optimisation pour réduire les pertes. Mais, le plus surprenant, c'est qu'il y a beaucoup d'autres raisons d'erreurs qu'on ne soupçonne pas.
Symptoms
Un fournisseur de denrée me racontait comment des denrées étaient détournées dans les établissements qu'il livrait. Par exemple, plus de 10 kg d'entrecôte par semaine était livré dans un établissement qui n'en proposait pas à sa carte. J'étais affligé, le commercial me disait qu'il ne pouvait rien dire, il risquait de perdre son marché. Vendre plus 600 kg d'entrecôte par an était le prix de son silence. Il ne s'agit même plus de mauvaise gestion des coûts d'achat et du stock, on est maintenant sûr de la pure perte pour le restaurant due à un manque de contrôle sur les commandes et sur les stocks.
Une autre histoire : Sur un blog américain, je lisais que les gestionnaires utilisaient des sacs-poubelle transparents pour vérifier visuellement ce qui était jeté. Le soir même, je vais vérifier les poubelles après fermeture, et surprise ! Je trouve un faux-filet entier de plus de 7 kg périmé dans le premier sac que j'ouvre.
Peut-être devenant "parano", je décide de contrôler les livraisons de plus prêt. Après l'achat d'une balance adéquate, le chef de cuisine pèse la livraison de lieu jaune. Sur 20 kg, il manque 2 kg. Sur une livraison, ce n'est pas important, mais imaginez les coûts que cela peut représenter sur un grand nombre de livraisons.
These are only examples, but they do describe the difficulty of monitoring food consumption. To let it go is to jeopardize the business. At the risk of going out of business.
Diagnosis
Alors comment faire sans y passer trop de temps ? Quelle méthode appliquer sans rendre le contrôle pénible et sans démotiver tout le monde ? Comment savoir ce que vous pouvez améliorer ? Et où concentrer vos efforts ? Comment mettre en place le contrôle stock restauration ?
Contrôlez les livraisons, c'est très bien, et cette étape va vous aider à limiter les coûts et amplifier vos résultats. Pourtant, une des plus grandes difficultés est de calculer les quantités consommées.
It's simple:
d'un côté, vous avez les denrées que vous achetez,
on the other hand the sales you make
L'écart, c'est ce que vous avez acheté, mais pas vendu.
The ideal solution
The best thing would be to be able to know which are the most important differences in terms of costs. After all, it would be a waste of time to monitor flour consumption because the difference is one kilo over a month. So the ideal solution is to focus on the big deviations:
or in volume to limit food waste,
or in euros to improve the balance sheet.
The luxury would therefore be to focus only on 2 or 3 products per period to specifically control :
outdated CSDs,
misjudged orders,
deliveries to be checked thoroughly,
ou les quantités indiquées sur les fiches techniques…
Calculation method - Stock control restoration
The comparison is made over a given period of time: for example, every month.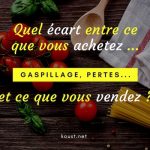 Theoretical quantity consumed
La première chose, c'est d'avoir le nombre de ventes de chacun de nos produits sur une période donnée. Ensuite, établir une fiche technique pour chacun de ces produits. On peut alors en multipliant les deux avoir la quantité de denrées théoriquement consommée.
Quantité théorique consommée = nombre de ventes x fiche technique
Avec l'utilisation des logiciels de caisse depuis quelques années, nous avons un atout considérable, c'est de pouvoir exporter le nombre de ventes de chacune de nos références sur la période choisie.
Actual quantity consumed
The actual quantity consumed is easy, it is the total of all invoices for the chosen period by ingredient.
Actual quantity consumed = total invoices
Don't forget the stocks!
Indeed, inventories will be carried out at the end of the period. In the example here, it will be every month.
So we will have a beginning inventory and an end inventory.
Example for the month of May :
theinventory starts on April 30
thefine inventory is carried out on May 31
Stock variance
Finally, the calculation of the stock difference is the difference between the "Actual Quantity Consumed" and the "Theoretical Quantity Consumed". The difference in stock between the beginning and end of the period is added to this calculation.
For each foodstuff :
Difference = Actual quantity consumed - Target quantity consumed + inventory start - inventory end
The new way with koust
Sur le papier, c'est simple, mais l'exécution l'est moins. Beaucoup de données et calcul sont en jeu. Ce contrôle peut vite devenir fastidieux sans outil.
So, let's see how to use the management software for these restoration stock control calculations.
Consumption
Ici, les consommations sont importées du logiciel de caisse. Il n'y a ainsi pas de tâches supplémentaires à effectuer.
Koust donne immédiatement les quantités de denrées consommées en prenant en compte les fiches techniques et les ingrédients associés aux articles.
Invoices
Koust's invoice module makes it easy to enter all your invoices. If you use the order sending module, the software transforms your orders directly into invoices.
In addition, you have the monthly total of your purchases at any time.
Inventories
Le module inventaire permet de valoriser vos stocks, la saisie se fait directement dans le logiciel de gestion ou par l'import de fichier CSV. Les dates d'inventaire seront aussi utilisées lors du calcul des écarts.
In addition to the stock differences, Koust calculates the total (in euros) of your inventories.
Restocking stock check: purchase/sale differences
Finally, the difference module gives you the result directly. You only have 2 possibilities:
Changing the period dates to extend or shorten your comparison period
Sorting on all data: ingredient name, higher deviation, higher quantity ...
The advantage of using Koust is also that the control period can be changed:
1-month stock differences,
over two months,
sur six mois… d'un seul clic.
L'autre avantage encore plus intéressant, c'est de pouvoir se concentrer uniquement sur 2 ou 3 produits par période par le tri :
in volume to limit waste,
or in euros to improve the balance sheet.
How do you get it?
Enfin, toutes ces fonctionnalités sont regroupées dans l'abonnement "Koust PRO"