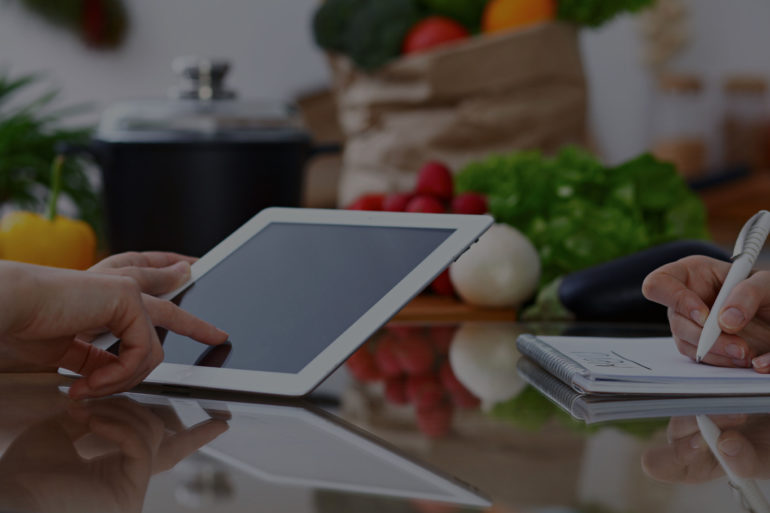 Koust application training program
Koust est une application de gestion des métiers du CHR. Il facilite la prise de décision, les commandes fournisseurs et assistent dans la gestion d'un établissement de restauration.
Dans cette application, vous gérez les ingrédients et les recettes sous un format structuré. Koust permet d'accéder à ses données et de les manipuler par une interface adaptée. Des fonctionnalités permettent de comparer le prix des ingrédients chez plusieurs fournisseurs, de calculer le prix de revient des plats en fonction de fiches techniques et de gérer les stocks. Koust vous assiste à la préparation des commandes.
Free Trial | Koust Application
How to facilitate supplier orders? A lot of fresh products, fluctuating prices, perishable goods, stocks that are difficult to evaluate: Koust simplifies the management of raw materials and the follow-up of production.
What constraints, what to simplify?
1- Putting suppliers in competition
Faced with the diversity of suppliers' offers, and faced with variations in quality or price, the first constraint is to choose the right supplier to avoid :
Deterioration of product quality
Price increases,
Weak quality of service,
Supply disruptions of goods,
Too long a delivery time.
In general, order and delivery days are spread out over the week. Vendors call one after the other. Some bring a sales representative to your establishment every week, others offer online services on their site.
A simpler approach is to group all orders from the same platform. To save time in the medium term, sending purchase orders by e-mail replaces a large proportion of phone calls and saves time.
Even if some of the purchases require live contact or negotiation, a large portion can be executed automatically. Perishable goods and stock optimisation requires a visual inspection of the cold stores and storage shelves.
2- Calculate the quantities of food to be ordered easily
Les quantités à approvisionner peut se faire par un stock minimum dans le cas de ventes régulières et stables.
But to anticipate the quantities to be ordered, it is necessary to know the number of dishes to be prepared and the ingredients contained in the dish.
On doit donc transformer le menu du jour et le nombre de parts prévus en une liste de course. Pour établir cette liste, il faut souvent reprendre la fiche technique, si on veut optimiser les quantités. Surtout, si vous utilisez des produits frais et si vous voulez éviter le gaspillage, un pré-calcul est indispensable.
These cases mainly concern :
Dishes of the day.
Repas de groupe qui ont établi un menu à l'avance
Establishments where the number of guests is already known.
3- Fewer unit calculations, fewer conversions
Les différents conditionnements se transforment en vraie difficulté pour les professionnels de la restauration, non seulement pour comparer les différents conditionnements, mais aussi pour chiffrer les fiches techniques. Ainsi, quand on remplace un conditionnement de 900 g par un autre de 750 g, il est indispensable de décrire la recette en g (gramme).
Quand on achète par cartons de 5 kg un poisson surgelé :
the invoice line can multiply a unit price per kg by 5
ou être directement évalué pour 5 kg.
Faced with this diversity of invoicing methods, price monitoring quickly becomes chaotic.
4- Transforming orders into invoices
Of course, the generation of supplier orders implies being able to convert them into invoices. Indeed, the next step is to be able to follow theevolution of prices, the quantities of ingredients purchased over a period of time and the amount spent with each supplier. Negotiation is made easier with the supplier and is also essential for management control.
La seule contrainte est de pouvoir modifier les quantités livrées. Par exemple, si vous commandez 5 kg d'entrecôte, votre fournisseur vous livrera une quantité proche, mais pas exactement 5 kg. Le prix pourra aussi changer., cette évolution devra être prise en compte pour la prochaine commande. En effet, si un fournisseur augmente ses prix, il prend le risque de ne plus être référencé s'il devient plus cher qu'un autre.
Supplier ordering solutions in Koust
To meet these specific constraints in restoration, the Koust application provides simple tools dedicated to each step: from the choice of the product to the invoice. The constituted data give a formidable advantage to the manager for the follow-up of the quality and costs of raw materials.
Comparison and choice of suppliers
Plusieurs fournisseurs peuvent être référencés sur le même ingrédient. Par défaut, c'est le meilleur prix qui est choisi, mais le logiciel donne la possibilité de déréférencer un fournisseur (par exemple s'il y a un problème de qualité). Quand les prix évoluent, le choix du fournisseur peut aussi changer.
Mercuriales
The mercurials are used to carry out the commands. There are several ways to represent them:
minimum price sorting: cheapest supplier
tri total : pour chaque ingrédient, lister toutes les propositions des grossistes
by supplier: list of ingredients sorted by supplier
These mercuriales may change over time based on your wholesalers' proposals or prices that change on the invoices.
Preparation of supplier orders
In order to pre-fill your purchase orders or your mercurials, the "supplier order preparation" function allows you to enter :
the number of recipes to be transformed into quantities to be ordered
the quantity of each ingredient
or both
Generating and Sending Orders
After filling in the quantities, purchase orders can be generated with these merchandise requirements. The choice of supplier is established in the same way as in the mercuriales (minimum price). However, this choice can be modified.
Le bon de commande est chiffré par les derniers prix enregistrés afin d'estimer le coût total des achats. Les références produits lèveront toutes confusions possibles chez votre fournisseur. En effet, si vous négociez un beurre de marque « A » avec 30 % de réduction et que lors de la commande, votre fournisseur vous livre un beurre « B » plein tarif, vos efforts de négociation sont vains.
Convert the order into an invoice
La transformation des bons de commandes fournisseurs en facture vous économise la saisie. Il reste quelques changements de poids, changement de référence ou des prix à rectifier si besoin. Le logiciel vous propose de modifier le prix de référence si les prix évoluent.
When you don't have a purchase order, Koust simplifies invoice entry:
A search tool helps to find a reference or to create it quickly if needed.
Packaging quantities may vary. You can enter the unit price or the total price on your purchased ingredients.