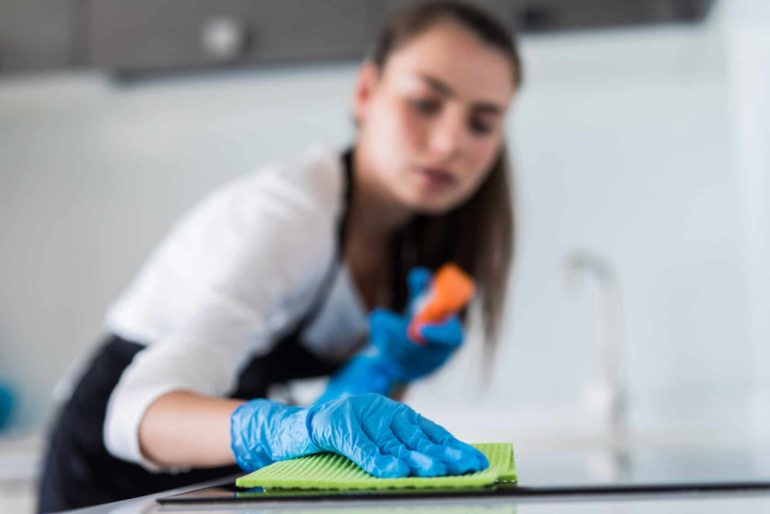 HACCP in collective catering
The HACCP method in collective catering is a set of rules governing hygiene measures in a catering establishment. These rules must be applied in order to guarantee the reliability of foodstuffs and therefore the safety of your customers. This method is based on 7 points.
What are the HACCP standards in collective catering?
Measure 1: Analyze the hazards ;
First of all, it is essential to analyse the dangers that exist in your establishment and to draw up a list of these dangers.
Action #2: Determine CCPs ;
This is the stage where monitoring is required to anticipate and eliminate one of the hazards listed above.
Action 3: Set critical limits.
The aim here is to determine a critical threshold for each dangerous element analysed above.
Measure 4: Establish monitoring actions ;
Once the critical thresholds and limits have been established, it is important to implement monitoring actions. In order to verify that these thresholds are not exceeded. It is therefore necessary to set up a recurring and precise control method within your establishment.
Action #5: Establish corrective actions ;
In the event of non-compliance with the thresholds previously established, corrective action must be taken. This allows monitoring and rapid reaction in the event of exceeding this threshold.
Measure No. 6: Verification ;
The audit ensures that the HACCP system is working and effective in your establishment. This should be verified before the final data recording stage.
Measure #7: Recording ;
Finally, you must compile a file in which will be listed all the statements, procedures and actions concerning the HACCP principles and their implementation.
Checkpoints in your establishment
1- The staff

One of the most important points in HACCP is the hygiene that the staff must have. Indeed most often bacteria, viruses and other pathogens are carried by people. Food handlers are therefore most likely to transport their food and contaminate food. This is why it is essential to give them access to the right equipment and to equip them so that they can work safely.
It is therefore necessary to put in place adapted material and equipment, i.e. shoes, gloves, gowns, etc. are essential for the good practices of your employees.
Finally, the last very important point is to enable the company's employees to follow HACCP training in order to raise their awareness of the To do this, the company will have to set up a cloakroom for staff only. On the other hand, the catering staff will have to follow an HACCP training course. HACCP training and be aware of the risks and food hygiene.
2- The premises
Many elements must be put in place to ensure health and safety on company premises.
First of all the kitchen, it is imperative to set up a detailed cleaning plan so that your teams know exactly what needs to be done.
This cleaning plan must list all the tasks and the recurrence at which they must be carried out. In addition, it is preferable to assign a person to each task in order to make your teams responsible and to be able to follow the progress of this cleaning plan. Once the plan is in place, you must be able to keep a trace and a history of it. Indeed in case of a health check it is mandatory to provide evidence and a detailed chronology of the hygiene plan.
Finally, the temperature and polarity readings of your cold rooms and deep fryers should be taken every day and kept as a history.
This is why it is preferable to adopt a 100% digital and dematerialized solution so that you do not lose your documents and can be sure that they are automatically saved.
3- Suppliers and reception of merchandise
Suppliers and goods reception are also very important points with regard to the HACCP method in the catering industry.
First of all, the choice of your suppliers must be studied and considered. You must make sure that they have a sanitary approval for foodstuffs of animal origin.
Afterwards, when receiving the goods, certain rules have to be respected. You have to make sure of the quality, temperature, packaging and CSD of the food received.
4- HACCP traceability in collective catering
The traceability of the raw materials used in your recipes is a very important point of the HACCP method.
Indeed, food traceability has been mandatory since 2002, it is necessary to be able to find several elements. The approval number of the workshop of origin, the batch number and the CSD for all internal preparations and production of semi-finished products.
For this you must be able to store and classify all the labels of raw materials used in your preparations.
In addition, you must assign batch numbers to your preparations.
These must contain several pieces of information:
Lot number
CSD
Date of manufacture
The application of the HACCP method in the catering industry
The implementation of all hygiene and traceability measures is complicated and, above all, very time-consuming.
It is therefore strongly recommended that contract catering establishments rely on a solution that allows them to structure, track, classify and inventory all data to ensure regulatory compliance.
Moreover, this ensures food safety for the establishment and for consumers. Indeed a good management of the HACCP in collective catering makes it possible to prevent all sanitary risks and to react quickly and especially effectively in case of problem.
This is why Koust offers a real answer to these problems. An all-in-one solution that allows you to manage all HACCP measures from a single location.
Koust gives you the opportunity to :
Create a cleanup plan
Recording temperatures
Oil lift
Access the history of tasks and temperature readings
Print traceability labels
Store and file your CSD labels
To receive the goods
Declaring internal productions
All this from any support (computer, tablet, smartphone) and from any location. Thanks to our software and our mobile application that allows you to consult and enter your data at any time.
Photo credit: Housephoto created by diana.grytsku - www.freepik.com