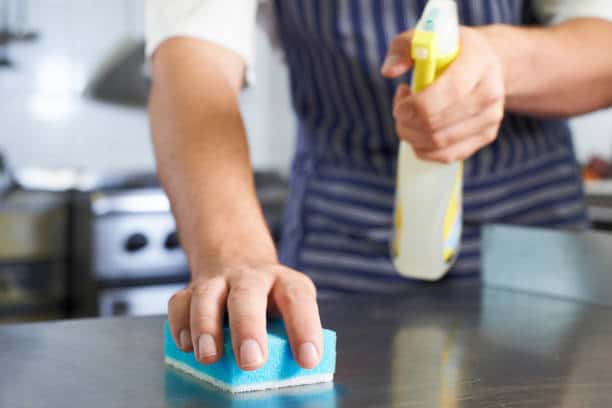 HACCP restaurant - Hygiene in the kitchen
How not to throw in the towel when faced with the difficulties of implementing a Restaurant HACCP Plan? In this article, we will give you some essential keys to make this process easier for you.
But first of all, what is catering hygiene?
Hygiene is a set of measures and actions aimed at minimising the risk of contamination. These contaminations can be due to the handling of foodstuffs, poor storage conditions, or a lack of hygiene of the premises and staff. In order to minimise these risks as much as possible, the law in France requires restaurant owners to set up a sanitary control plan. To mitigate all health risks, several measures must be implemented by managers to avoid any risk of food poisoning (HACCP Restaurant).
Free Trial | Koust Application
This includes controlling the quality of the food received, setting up cleaning systems (premises and staff), being equipped with suitable and well-maintained production and storage equipment, raising staff awareness of the hygiene measures set up by the management, etc.
The HACCP restaurant standards to be respected
There are a number of regulations governing food hygiene and restaurant owners are obliged to implement a Sanitary Control Plan (SCP).
Restaurateurs are therefore obliged to comply with the food hygiene regulations in force.
There is, however, a distinction between commercial and contract catering.
The health control plan
The food safety control plan is a tool for maintaining an acceptable level of food safety at each stage of storage or production.
To help restaurateurs in this process, the GBPH (Guide to Good Hygiene Practices) and the HACCP (Hazard Analysis Critical Control Point) method are essential.
Developed by NASA in 1959, the HACCP method was designed to eliminate or reduce to an acceptable level any hazard, whether biological, physical, chemical or allergenic in origin. Today this method is unanimously recognized as a reliable and efficient approach to maintain food safety in all types of food production.
The disadvantage of the HACCP restaurant method is that at first glance it does not seem easy to implement. Here we will give you the keys to successfully implementing this method in your restaurant.
Implementation of the restaurant HACCP tool
The HACCP method is based on 7 principles, these are :
Conduct a hazard analysis.
Identify critical points.
Define critical thresholds.
Set up a monitoring system for critical points.
Determine the corrective action to be taken when monitoring reveals that a critical point is not under control.
Check the correct operation of the HACCP method implemented.
Establish a record of all procedures and records performed.
Before putting it into practice, let's look at the different types of hazards:
Biological: pathogenic bacteria, toxins, parasites.
Chemical: Insufficiently rinsed cleaning product contaminating food in contact with surfaces, pest control products.
Physical: foreign bodies. Pieces of glass or plastic accidentally present in food preparations.
Allergens: Identify them, and list them in each of your dishes. A restaurateur is obliged to declare a list of 14 allergens upon request from customers.
Let's put the HACCP restaurantplan into practice
1. Conduct a hazard analysis
Breaking the cold chain.
Storage temperature not controlled in positive cold room (meat).
Alteration of a food due to abnormal microbial development = Biohazard.
2. Determine critical points
The temperature should be between +1°C and +3°C.
An occasional deviation of 2 degrees is tolerated but must remain exceptional.
3. Define critical thresholds
Achieved at a temperature of 0°C.
Achieved at a temperature of +5°C.
4. Establish a system for monitoring critical control points.
Check the temperature of the cold rooms once a day.
Enter the results in an appropriate document.
5. Determine the corrective action to be taken when monitoring reveals that a critical point is not under control.
If the critical threshold is reached :
Check the correct temperature display with another thermometer.
If the temperature is confirmed: 
Record the value and adjust the temperature of the cold room to return to the target value between +1°C and +3°C.
Vérifier la qualité des produits en stock et traiter les non-conformités tel que décrit dans le document « traitement des non-conformités » page…).
Check again 30 minutes after adjusting the temperature to confirm the effectiveness of the corrective action.
In case of different values : 
Immediately contact the maintenance service for intervention and adjust the temperature to reach the target value between +1°C and +3°C.
Vérifier la qualité des produits en stock et traiter les non conformités tel que décrit dans le document « traitement des non-conformités » page…).
6. Verify the proper functioning of the restaurant HACCP method.
At the end of the month, check the presence of the records (temperature readings) for each day of the past month.
Conduct random additional temperature self-checks. 
Question staff to confirm their knowledge of critical thresholds and corrective actions to see if there is a need for training in this area.
7. Establish a record of all procedures and records performed.
Create a file containing the temperature control procedure, the procedure (corrective measures) to be applied if a critical threshold is reached and all temperature records (recordings).
Provide staff with the necessary recording documents for temperature checks.  
Make available to the staff the documents relating to the control procedures (temperature reading, critical threshold and corrective measures).
Conduct HACCP training to ensure your team understands the implementation of the PMS for food hygiene.
This is an example of the reasoning for all the hazards identified. You can do this work via a table. Start by making the list of hazards in step 1, once done, perform steps 2 to 5 for each of them. Finally, complete steps 6 and 7. Here is an example HACCP table Restaurant under Excel.
I invite you to consult and implement the PMS carried out by the UMIH (Union des Métiers et des Industries Hôtelières). It is simple and concrete, it is a good document to start and implement a PMS. Download the PMS
Also, this is a video carried out by 5 students as part of their study project at the IUT Génie Biologique de Saint Brieuc. Well done, pedagogical, it is a useful source of information!
The new digital tools
The application of a sanitary control plan is a complete process that requires anticipation, organisation, monitoring, updating, self-checking and recording. To simplify the implementation of a HACCP method and the monitoring of the sanitary control plan, digital technology has been put at the service of restaurant owners by offering complete applications that allow them to effectively implement a HACCP plan. These new tools bring together all the traceability and food hygiene functions required to maintain your PMS. In addition, in the event of an inspection, you can prove that the health risks in your restaurant(s) are well managed. Indeed, an HACCP tool such as Koust's allows you to prove that the principles of food hygiene and traceability are being properly followed.
To discover our hygiene solution, take a free trial. It applies to all types of catering, and also gives you access to management and margin control functionalities!