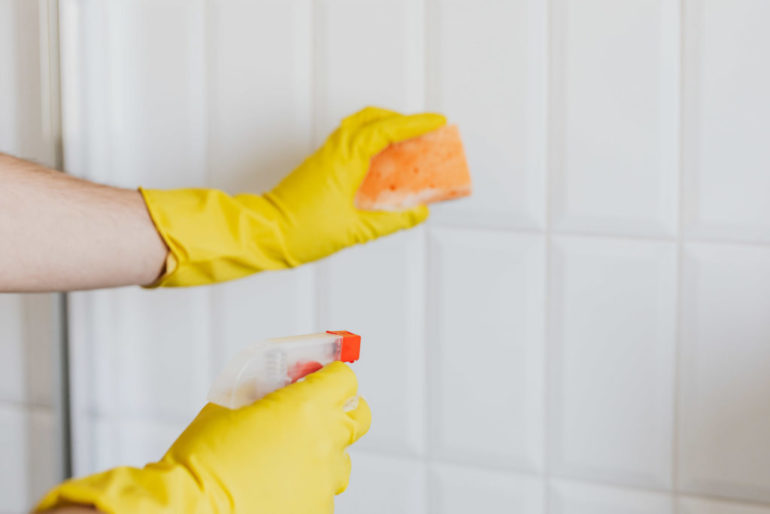 Cleaning and Restoration Plan
Setting up a cleaning and restoration plan and respecting sanitary gestures is more and more important. Also, the current context forces restaurant owners to take more restrictive and supervised measures than before.
Indeed, the need of setting up health rules and monitoring them has become essential. for catering professionals. 
It is therefore to put in place a certain number of actions and solutions in order to to monitor and control hygiene in his establishment.
That is why we decided to develop a hygiene solution in Koust. A module totally dedicated to the sanitary rules in the HACCP plan which is compulsory for all catering professionals.
Thanks to this hygiene module is intended for catering professionals, they will be able to create and organize the cleaning plan for their establishments. They will also be able to create and print their typesetting labels and CSDs to comply with the rules HACCP.
A complete and indispensable tool
This hygiene tool gives you access to more than 10 new features, from the creation of the HACCP plan, to the history of tasks performed, through the temperature and oil records.
La solution proposée offre de nombreux avantages, en effet, il sera donc possible de créer son plan de nettoyage par zone, par tâche et par responsable. Cela permet de responsabiliser chaque membre de votre équipe tout en ayant le contrôle sur le suivi de ces tâches grâce à la fonction « suivi et historique ». Cette fonctionnalité vous donne la possibilité de suivre le nombre de tâches effectuée, à venir ou en retard. Ainsi, vous êtes informé en temps réel de l'exécution du plan HACCP de votre établissement.
In addition, in the case of a hygiene check, you can provide a history of the tasks performed, sorted by area, person responsible and/or dates. This ensures you security and compliance with the laws imposed for catering professionals.
Une partie de la solution est également dédiée à la traçabilité, en effet un certain nombre de règles en matière de traçabilité sont à prendre en compte. Que ce soit des étiquettes DLC pour vos préparations internes, les allergènes d'un plat et sa composition.
Enfin, un module sera dédié au relevé de températures de vos chambres froides et des huiles. Dans la même optique que les fonctionnalités précédentes, un suivi et un historique de ses relevés sera disponible, sous forme de graphique et de courbe d'évolution. Ainsi donc, vous serez alerté dès qu'une température sera trop élevée ou que la polarité de l'huile ne sera pas dans l'intervalle défini par la législation.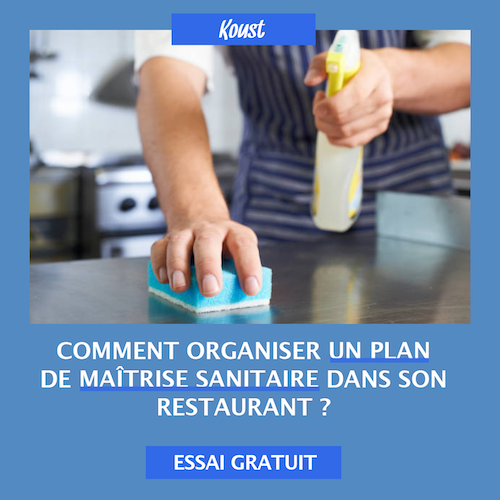 A fluid and compatible tool
Une interface plus rapide, mais également plus ergonomique fait également partie du projet. En effet, le logiciel sera accessible sur ordinateur, mais aussi sur une application qui sera par la suite accessible sur mobile et tablette. Cela permettra de faciliter l'exécution pour les responsables et les salariés. Dès qu'une tâche sera effectuée, elle sera prise en compte par le logiciel automatiquement.
This hygiene module will be of course compatible and connected to Koust, this connection allows you, by example, to link your recipes to the printing of labels from composition or CSD.
La solution d'hygiène et le plan de nettoyage restauration seront disponibles sur koust.net le lundi 27 juillet 2020 à partir de 15 h pour les abonnés. Elle sera également accessible gratuitement pendant 14 jours pour tous les utilisateurs qui le souhaitent.