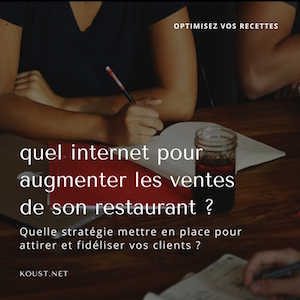 Taking advantage of the internet to increase sales in your restaurant
The marketing of his restaurant is nowadays done via the internet. How to increase restaurant sales through these new media?
Is a website necessary?
Free Trial | Koust Application
Today a website for your company is essential: at least a showcase site with some simple information, a few photos of your establishment and your recipes. You can collect the opinions of your customers in a guestbook, give some information about your environment. Contrary to social networks that broadcast news, the site gives more static information that does not change too much over time.
À l'avenir, ce site peut vous servir à récolter les adresses e-mail de vos clients ou prospects. Vous aurez peut-être une boutique en ligne dans quelques années. La disponibilité des tables dans votre établissement et la réservation en ligne pourrait être géré par votre site. Mais attention, vous devez être propriétaire de votre nom de domaine.
Si vous n'avez pas le temps ou les moyens, commencez par un site gratuit. Il y a des dizaines de solutions possibles, mais ce n'est pas l'objet de cet article : une recherche sur Google vous guidera vers une solution rapide.
Bien que très important, l'impact marketing du site internet vitrine est aujourd'hui dépassé par la page Facebook, le réseau social qui peut vous apporter le plus de clients.
Social networks
Today, social networks are a must. Social networks are the "word of mouth" of your establishment, they are easy to use and free.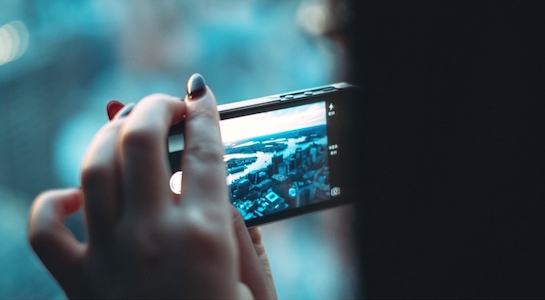 La liste des plus populaires : Facebook, Twitter, YouTube, Pinterest, Google+
We're going to focus on the most important thing:
Facebook: the must-see
Avec ses millions d'utilisateurs, Facebook a dépassé la popularité des sites internet. Les utilisateurs préfèrent rester sur un seul outil pour se simplifier la navigation. C'est donc par la page de votre entreprise que vos futurs clients vont vous découvrir.
Creating the page is quick and easy, here's how to get your first fans.
Winning his first 1000 fans?
#The first step to optimizing a Facebook page is to complete it as much as possible.
N'oubliez aucunes sections : de l'URL de votre site en passant par votre description complète, la photo de profil à utiliser ainsi que la photo de couverture (privilégiez les formats photo jpg ou PNG pour un meilleur rendu), tous les éléments doivent être remplis avec soin. N'oubliez pas aussi de configurer le call to action sur votre page Facebook, celui-ci pourra permettre à vos prospects de s'abonner à votre newsletter par exemple.
#Invite Your Friends to Become Fans #
Connectez-vous avec des amis sur Facebook : Avec votre profil personnel, recherchez votre page dans la barre de recherche en haut, une fois sur votre page, à gauche, cliquez sur inviter vos amis à aimer votre page…
Ask New Friends to Join Your Page.
#Share news from your business page on your personal page
Post as often as possible by sharing on your personal profile.
#Post more often #
Schedule your posts with Facebook or plan with tools like Hootsuite.
Find content and articles on your activity or theme to share with Feedly.
#Faites des vidéos ou GIF animé pour attirer l'attention
Pour commencer, vous pouvez démarrer avec des diaporamas de vos photos pour créer des vidéos. Beaucoup de logiciel et d'applications permettent de créer une courte vidéo en quelques minutes. N'oubliez pas un appel à l'action à la fin de la vidéo. Penser aussi à laisser vos coordonnées, votre vidéo est susceptible d'être partagée.
#Answer your fans' questions #
Et remerciez-les pour leurs commentaires. Donc, plus vous aurez de dialogue et plus vos publications seront vues. Inciter les lecteurs à laisser des commentaires, leurs amis verront vos publications et ajouteront peut-être un like ou un autre commentaire. Alors c'est un effet boule de neige qui prend le relais.
#Offer the good things to your Fans #
Si vous donnez beaucoup à vos fans, ainsi en retour, ils vous aideront à développer votre page et donc à réussir.
#Use a call to action in your Header #
#Put a link in your about section
First, insert a link to your website in the about section. Also add this link in your profile if necessary.
#Go to the statistics to see what content you like and what profiles you like.
#Utilisez La Fonction @Tag pour taguer des personnes ou des pages
Pour nommer une personne sur Facebook, ajouter @ avant son nom et Facebook établira un lien vers son profil et notifiera la personne de ce lien.
#Publish quality content
#Allow Fans to publish or tag Photos
#Leave Comments on Other Page Publications #Leave Comments on Other Page Publications
Add value to the conversation by adding quality feedback and building relationships with other companies.
#Download videos directly to Facebook
Privilégiez l'hébergement de vos vidéos sur Facebook plutôt qu'un lien vers YouTube
#Follow your progress with Facebook Stats to increase restaurant sales
#Connect Your Facebook Page with Twitter
Your Facebook posts can be automatically copied to other social networks.
#Attract More Love with Professional Pictures and Drawings
#Deliver an amazing Facebook page experience #
Ensuite, partagez vos défis, vos actualités, vos travaux et la façon dont vous réduisez vos déchets.
#Cross-promote with other Facebook pages #
#Create custom applications
Je vous recommande aussi Woobox pour créer des applications :
link to your Pinterest page,
list of Tripadvisor's latest advisories,
links to increase restaurant sales,
Virtual tour.
#Insert your Facebook page and other social networks in your email signatures
#Use other levers and social networks to get more like
Les groupes Facebook qui traitent de sujets proches de votre activité peuvent aussi être de très bons leviers d'acquisition pour peu que votre approche ne s'apparente pas trop à de l'autopromotion, ce qui pourrait avoir l'effet inverse !
Les autres réseaux sociaux comme Instagram, LinkedIn, Pinterest ou encore Google Plus sont aussi de bons leviers d'acquisition pertinents pour de nouveaux fans.
#Invite also your Customers to like your page
Si quelqu'un vous aime assez pour acheter votre produit, alors il y a une bonne chance qu'ils vous aiment votre page Facebook également.
Use Facebook Ads to boost likes
Enfin, Facebook Ads, c'est l'utilitaire de gestion de publicité sur le réseau Facebook. Vous pouvez développer la visibilité de vos articles et photos. Et, vous pouvez rechercher des segments particuliers de vos cibles :
sorted by city,
search by profession,
filter by interests,
keyword search.