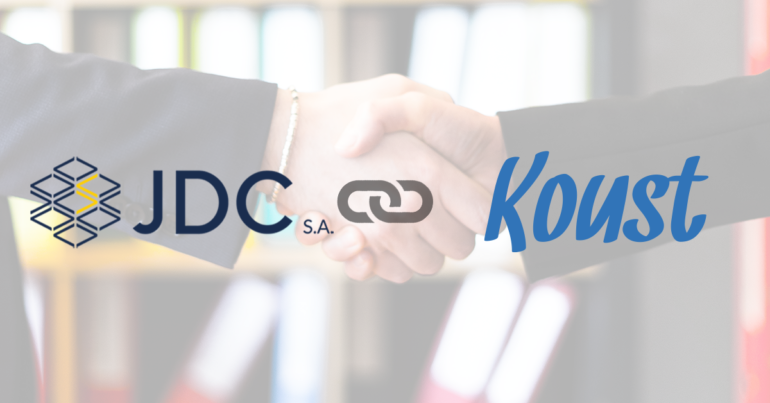 Koust and JDC: New partnership
Koust et JDC s'associent pour simplifier le travail et le quotidien de leurs utilisateurs. Et cela en connectant leurs deux logiciels respectifs, logiciel de gestion et logiciel de caisse.
Les deux logiciels destinés aux restaurants posent les bases d'une collaboration pour simplifier le travail des restaurateurs.
En effet, les deux applications disposent de fonctionnalités complémentaires.
Responding to requests from conservators
Pour développer son entreprise, le restaurateur doit gérer et s'organiser en intégrant les évolutions technologiques. Les restaurateurs sont confrontés à plusieurs problèmes, notamment :
– La multiplication des solutions numériques,
– La duplication des données entre ces applications,
– Le manque de communication entre ces outils numériques
En développant des interfaces entre leurs outils et données, Koust et JDC veulent simplifier le travail et donner plus valeur aux professionnels.
JDC gère le côté « vente » c'est-à-dire le logiciel de caisse et de suivi client.
L'application Koust, elle, gère le « back office », autrement dit la gestion des approvisionnements, le contrôle de gestion et l'analyse des ventes pour booster la profitabilité des restaurants.
Numerous user benefits
Cette collaboration permet donc aux utilisateurs des deux plateformes de les connecter. Et ainsi augmenter les nombres de données à analyser, ce qui renforce leur compétitivité et leur rentabilité.
En effet, le logiciel de gestion Koust peut grâce aux données de ventes de la caisse analyser ces dernières et connaitre par exemple les plats les plus vendues et surtout les plus rentables. Cela permet également de contrôler les écarts de stocks et les pertes du restaurant, tout en sachant d'où proviennent ces pertes et ainsi les actions correctives à apporter.
Enfin, cette collaboration apporte aux restaurateurs une simplification de la gestion de leur établissement en important automatiquement les ventes de la caisse dans Koust.
The two companies have decided to collaborate to develop interfaces and facilitate the work of restaurants. And finally to propose a complete solution to develop their results.