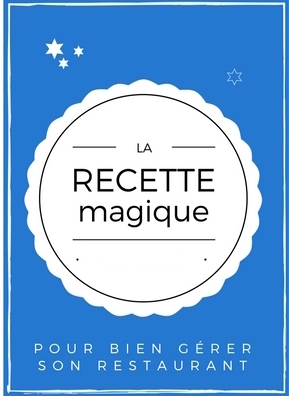 Managing your restaurant in 10 steps
Running a catering business requires organisation. Indeed, you have to be able to manage many elements:
Online reservations
The suppliers
Personnel management
Accounting
Stocks
The sector of activity
Management
Customer satisfaction
All this while taking into account the monitoring of the turnover and profitability of your catering establishment. We will therefore give you some advice and tools to improve the management of your establishment.
La recette magique pour bien gérer son restaurant est simple. Les restaurants à succès suivent de près ces pratiques pour continuer à progresser. En plus de d'avoir une bonne gestion, les règles élémentaires d'hygiène seront plus faciles à appliquer, le travail de l'équipe sera facilité. À terme, ce processus améliore la qualité, l'ambiance de travail, tous les ingrédients de la réussite.
The simple and fundamental rules for optimizing profitability :
① Simplify your card
② Negotiate with suppliers
③ Control deliveries
④ Take a full inventory every month.
⑤ Control the gross margin every month.
⑥ Make data sheets for your main dishes.
⑦ Calculate your costsof production
⑧ Analyse your sales (Customer reaction to prices - Popularity and contribution to the margin of dishes)
⑨ Track the differences between your purchases and sales
⑩ Get inspired by what works well and try new things.
① Simplify your card
Simplifiez, Simplifiez, Supprimez…
Simplifier la carte, c'est diminuer le nombre et simplifier les plats. La complexité n'entraine qu'une baisse de la qualité et une démotivation de l'équipe. La complexité augmente déjà quand la fréquentation augmente, si en plus, vous ajoutez un menu difficile, vous n'obtiendrez que de mauvais résultats.
② Negotiate with suppliers
Négociez, Négociez, Négociez…
La négociation n'est pas naturelle chez la plupart de gens, mais elle est nécessaire pour diriger une entreprise. Comme tout apprentissage, c'est la première fois qui est plus difficile, après c'est de plus en plus plaisant. Vos fournisseurs ne vous feront pas de cadeaux, eux aussi veulent vendre le plus cher possible.
③ Check deliveries
Check, Weigh, Check
Du jour où j'ai commencé à contrôler les livraisons, j'ai relevé une erreur sur dix. Soit un produit est manquant, soit les quantités livrées sont bien supérieures à la commande, soit il y a un problème de qualité. Par exemple, le fournisseur de poisson peut facturer 10 % de plus si vous ne contrôlez pas.  Autre exemple, vous commandez 15 kg de noix de veau : la taille des pièces de viande étant variantes, c'est facile pour votre fournisseur de vous vendre quelques kilos en plus. Imaginez que vous ayez la possibilité de vendre 20 % de marchandise en plus ! Le pas est vite franchi.
④ Check the gross margin every month.
Avec le chiffre d'affaires, la marge brute conditionne vos résultats. Tout le monde fait le point sur l'évolution du Chiffre d'affaires tous les mois, mais les restaurants à succès ajoutent cet indicateur clé : la marge brute. Vous ne pouvez pas attendre les résultats de votre comptable à la fin du bilan, c'est trop tard pour réagir.
⑤ Make a complete inventory every month.
Nobody likes to take inventory! But if you want to know if your efforts are paying off, you need to take stock at least once a month. And inventory is necessary to know your gross margin.
Key criteria for good restaurant management
⑥ Make technical data sheets for your main dishes
The Technical Data Sheets allow :
to establish the quantities to be prepared,
de calculer le coût des matières premières d'un plat,
de faciliter le travail : calcul des quantités à préparer
Pour commencer, définissez la liste de vos plats les plus vendus. Ce sont eux qu'il faut bien maîtriser en priorité. Ensuite, ajoutez les plats à risque : matière première chère ou recette compliquée ou que l'équipe a des difficultés à retenir.
⑦ Calculate your cost prices
Ce calcul est indispensable pour gérer son restaurant. Les dépenses liées à la cuisine dépendent également de l'activité, des coûts des produits. Ce premier calcul vous aide à définir les prix de vente en appliquant un ratio. Avec les fiches techniques, c'est très simple de calculer le coût de revient. Lisez cet article pour découvrir une autre méthode.
⑧ Analyze your sales
La maîtrise de la qualité et des coûts ne suffisent pas pour bien gérer son restaurant. Après ces étapes et quelques mois de vente, on peut analyser le menu du restaurant. Les données de vente de la caisse sont d'une richesse incroyable pour booster les ventes et la marge brute. Après la construction de la carte et une mise en service, nous pouvons mesurer comment les clients ont réagi à nos propositions : Prix, plats, menus… Il est temps d'analyser tout ça !
Customer reaction to prices
Dans cet article, vous pouvez comprendre pourquoi vous pouvez aller beaucoup plus loin pour développer votre commerce en proposant ce que vos clients sont prêts à dépenser.
Popularity of the dishes - Contribution to the margin of the dishes
Dans cette analyse, on mesure chaque produit, chaque plat en fonction de sa popularité et la marge qu'il dégage. Cette classification permet de ranger ce que vous vendez en quatre cases différentes. Vous décidez alors très simplement des actions à applique pour chaque case. Vous devriez avoir une carte irrésistible après quelques itérations.
Menu engineering: Popularity and contribution to gross margin
Ces différentes statistiques permettent de mettre en avant les plats et produits les plus intéressants pour votre entreprise et vos clients et de supprimer ce qui n'est pas rentable.
⑨ Track the gaps between your purchases and sales
Comment savoir ce que vous pouvez améliorer ? Et où concentrer vos efforts pour gérer son restaurant ?
Contrôlez les livraisons, c'est très bien, mais cette étape va vous aider à amplifier vos résultats.
It's simple:
d'un côté, vous avez les denrées que vous achetez,
on the other hand the sales you make
L'écart, c'est ce que vous avez acheté, mais pas vendu.
⑩ Managing your restaurant: Get inspired by what works well
The simplest recipe for success is to build on what you do well and what works for you.
Cependant, pour ne pas se faire dépasser, il est nécessaire d'innover, d'essayer régulièrement des nouveautés.
Shake it vigorously and serve!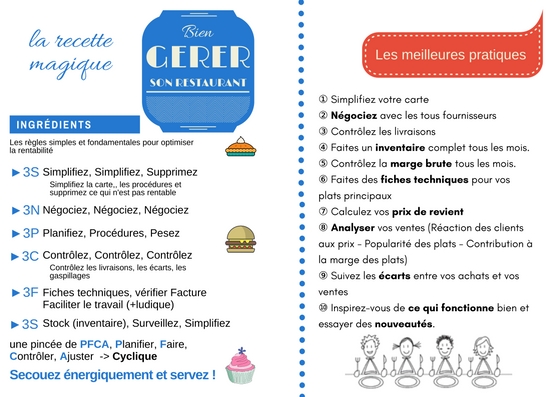 La gestion de votre établissement de restauration dépend donc de plusieurs points (outils, comptable, stocks, réservation du client, personnel…). Pour réunir et centraliser toutes ces informations, vous pouvez vous équiper d'un logiciel de gestion. En ce qui concerne les réservations, il existe des entreprises proposant un service de réservation en ligne permettant à vos clients de réserver une place dans votre restaurant.
De nombreux restaurateurs ne veulent pas investir de dépenses dans une solution ou un logiciel pour leur restaurant. Pourtant, tous les restaurateurs possèdent une solution comptable ou de caisse, car ce sont des outils indispensables au bon management d'un restaurant, il en est de même pour un logiciel de gestion.
Koust est un logiciel qui vous permet d'optimiser votre gestion et d'augmenter votre rentabilité en activant les différents leviers vus précédemment.
De la gestion de stocks, aux commandes fournisseurs en passant par l'amélioration de votre carte, Koust répond aux problématiques de gestion de votre établissement de restauration.