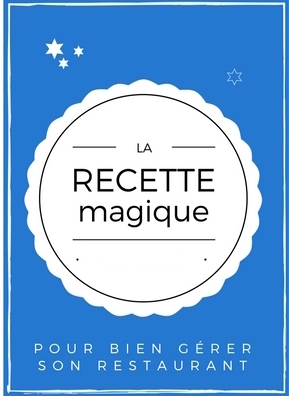 Managing your restaurant in 10 steps
Running a catering business requires organisation. Indeed, you have to be able to manage many elements:
Online reservations
The suppliers
Personnel management
Accounting
Stocks
The sector of activity
Management
Customer satisfaction
All this while taking into account the monitoring of the turnover and profitability of your catering establishment. We will therefore give you some advice and tools to improve the management of your establishment.
The magic recipe for good restaurant management is simple. Successful restaurants follow these practices closely to keep improving. In addition to good management, basic hygiene rules will be easier to apply, and the work of the team will be facilitated. In the end, this process improves quality, the working atmosphere, all the ingredients for success.
The simple and fundamental rules for optimizing profitability :
① Simplify your card
② Negotiate with suppliers
③ Control deliveries
④ Take a full inventory every month.
⑤ Control the gross margin every month.
⑥ Make data sheets for your main dishes.
⑦ Calculate your costsof production
⑧ Analyse your sales (Customer reaction to prices - Popularity and contribution to the margin of dishes)
⑨ Track the differences between your purchases and sales
⑩ Get inspired by what works well and try new things.
① Simplify your card
Simplify, Simplify, Delete ...
Simplifying the menu means reducing the number and simplifying the dishes. Complexity only leads to a decrease in quality and a loss of motivation of the team. Complexity is already increasing when the number of customers increases, if you add a difficult menu, you will only get bad results.
② Negotiate with suppliers
Negotiate, negotiate, negotiate, negotiate...
Negotiation is not natural for most people, but it is necessary to run a business. Like any apprenticeship, it is the first time that is more difficult, afterwards it is more and more pleasant. Your suppliers won't give you any gifts, they too want to sell as much as possible.
③ Check deliveries
Check, Weigh, Check
From the day I started checking deliveries, I found one error in ten. Either a product is missing, or the quantities delivered are much higher than ordered, or there is a quality problem. For example, the fish supplier may charge 10% more if you don't check. Another example is when you order 15 kg of veal nuts: the size of the meat pieces being different, it is easy for your supplier to sell you a few kilos more. Imagine that you have the possibility to sell 20% more! The step is quickly taken.
④ Check the gross margin every month.
Along with turnover, gross margin is a key factor in your results. Everyone takes stock of the evolution of turnover every month, but successful restaurants add this key indicator: gross margin. You can't wait for your accountant's results at the end of the balance sheet, it's too late to react.
⑤ Make a complete inventory every month.
Nobody likes to take inventory! But if you want to know if your efforts are paying off, you need to take stock at least once a month. And inventory is necessary to know your gross margin.
Key criteria for good restaurant management
⑥ Make technical data sheets for your main dishes
The Technical Data Sheets allow :
to establish the quantities to be prepared,
to calculate the cost of raw materials for a dish,
to facilitate the work: calculation of the quantities to be prepared
To begin, define your list of best-selling dishes. These are the ones you need to master first. Then add the risky dishes: expensive raw materials or complicated recipes that the team has difficulty remembering.
⑦ Calculate your cost prices
This calculation is essential for managing a restaurant. The expenses related to the kitchen also depend on the activity, the costs of the products. This first calculation helps you to define the selling prices by applying a ratio. With the technical sheets, it is very easy to calculate the cost price. Read this article to discover another method.
⑧ Analyze your sales
Controlling quality and costs is not enough to run a successful restaurant. After these steps and a few months of sales, one can analyze the restaurant's menu. The sales data from the cash register are incredibly rich to boost sales and gross margin. After building the menu and putting it into operation, we can measure how customers have reacted to our proposals : Prices, dishes, menus... It's time to analyze all that!
Customer reaction to prices
In this article you can understand why you can go much further to develop your business by offering what your customers are willing to spend.
Popularity of the dishes - Contribution to the margin of the dishes
In this analysis, we measure each product, each dish according to its popularity and the margin it generates. This classification allows you to classify what you sell in 4 different boxes. You then decide very simply what actions to take for each box. You should have an irresistible map after a few iterations.
Menu engineering: Popularity and contribution to gross margin
These different statistics make it possible to highlight the most interesting dishes and products for your company and your customers and to eliminate what is not profitable.
⑨ Track the gaps between your purchases and sales
How do you know what you can improve? And where should you focus your efforts to manage your restaurant?
Controlling deliveries is all very well, but this step will help you amplify your results.
It's simple:
on the one hand you have the goods you buy,
on the other, the sales you make
The spread is what you bought but didn't sell.
⑩ Managing your restaurant: Get inspired by what works well
The simplest recipe for success is to build on what you do well and what works for you.
However, in order not to be overtaken, it is necessary to innovate, to try out new things regularly.
Shake it vigorously and serve!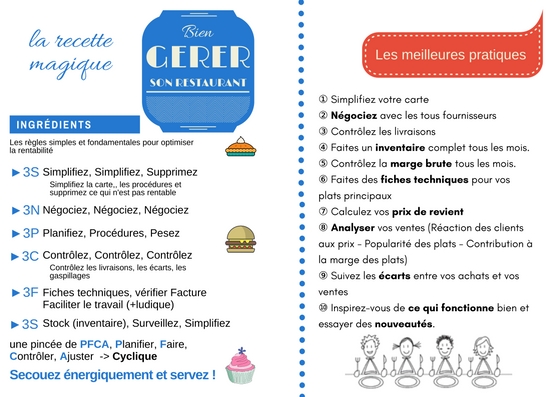 The management of your catering establishment therefore depends on several points (tools, accountant, stocks, customer reservations, staff....). To gather and centralise all this information you can use a management software. As far as reservations are concerned, there are companies that offer an online reservation service allowing your customers to reserve a place in your restaurant.
Many restaurant owners do not want to invest in a solution or software for their restaurant. However, all restaurant owners have an accounting or cash register solution because these are essential tools for the good management of a restaurant, and the same goes for management software.
Koust is software that allows you to optimise your management and increase your profitability by activating the different levers seen above.
From stock management, to supplier orders, to improving your menu, Koust responds to the management problems of your restaurant.